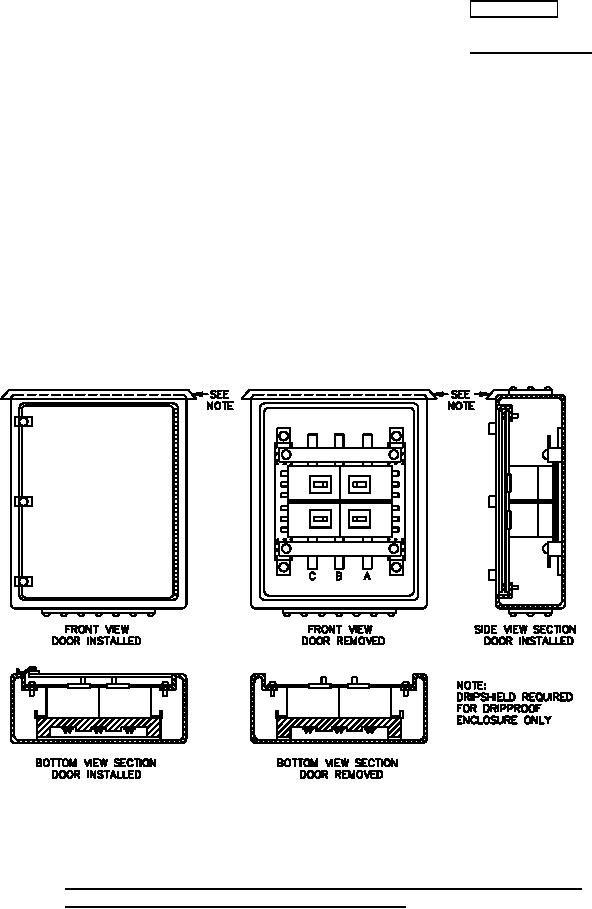 INCH-POUND
MIL-DTL-23928/4E
24 October 2013
SUPERSEDING
MIL-DTL-23928/4D
28 November 2012
DETAIL SPECIFICATION SHEET
PANEL, ELECTRICAL, POWER DISTRIBUTION FOR DOUBLE AQB-A101, AQB-A102, AQB-A103
AND NQB-A101, NQB-A250 CIRCUIT BREAKERS, 2-12 CIRCUITS, WITH AND WITHOUT MANUAL
TRANSFER, DRIPPROOF, TOTALLY ENCLOSED AND WATERTIGHT
This specification is approved for use by all Departments
and Agencies of the Department of Defense.
The requirements for acquiring the product described herein
FIGURE 1. Distribution panel for AQB-A101, AQB-A102, AQB-A103, NQB-A101, NQB-A250 circuit
breakers, dripproof and totally enclosed enclosure (typical).
AMSC N/A
FSC 5925
For Parts Inquires submit RFQ to
Parts Hangar, Inc.
© Copyright 2015 Integrated Publishing, Inc.
A Service Disabled Veteran Owned Small Business